DD Free Dish सेट करने का तरीका | फ्री डिश छतरी सेट करने का तरीका
What is DD Free Dish Concept?
DD Free Dish Channel List 2022 is about 150+ TV channels, including MPEG-2 + dd list of free MPEG4 channel channels + HD channels educational TV channels. DD Free Dish has grown the lifestyle of a variety of those who need to use free TV channels in India.
During the epidemic, a wide network of free dd dish channels included a new list that kept Indians informed, provided common entertainment content, and promoted education to reach those without broadband connectivity.
India has seen a dramatic change in the way television channels are broadcast to end consumers. This year, TRAI has introduced new rules that make DTH channels for customers at more affordable rates than ever before. Although the channels now come with the Fixed Network Capacity Fee (NCF) and à la carte channels, Doordarshan continues to be a different beast.
For the uninitiated, Doordarshan is a public service broadcaster hosted by the Indian Broadcasting Department. Apart from All India Radio, Doordarshan makes one of the two versions of Prasar Bharti. Founded on September 15, 1959, Doordarshan is one of India's largest broadcast organizations in the studio and communications base.
If you are a DD Free Dish User and Your Dish Antena is not set properly on DD Free Dish Signals Then This Article Helps To Set Signals Back on Your Dish Antena.
आज की पोस्ट में हम जानेंगे की कैसे आप अपने घर पर लगी छतरी को सेट कर सकते है . वो भी बिना किसी सेटेलाईट मीटर या किसी महंगे साधन के बिना तो आइये जानते है कैसे करना है
डिश ऐन्टेना में सिग्नल मिलाने का तरीका
सबसे पहले आप अपने डिश में लगे वायर को चेक करे
वायर सही तरह से लगा है की नहीं जानने के लिए SETTOPBOX को टीवी में लगाकर बॉक्स के रिमोट मै इन्फो बटन या सिग्नल बटन दबाइए
यहाँ अगर आपके पास MPEG-2 बॉक्स है तो कुछ इस तरह से नजर आएगा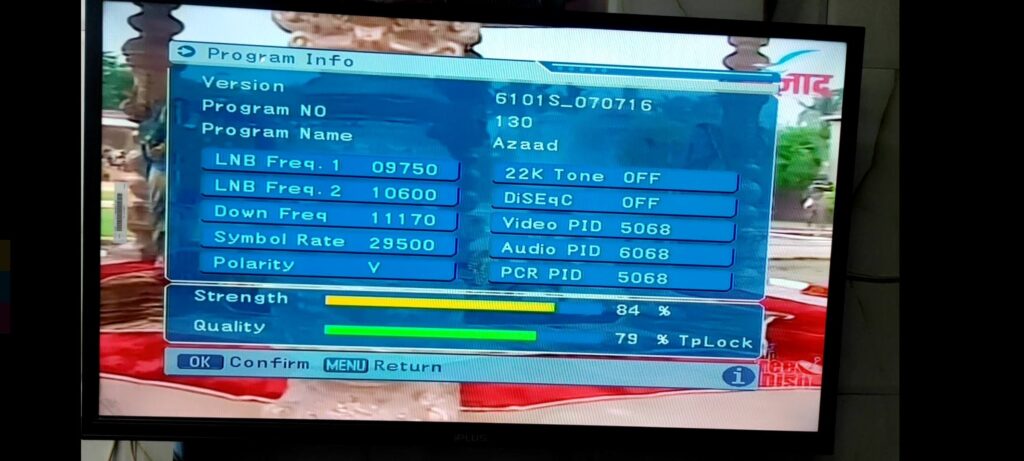 लेकिन आपके पास MPEG-4 बॉक्स है तो कुछ इस तरह से नजर आएगा
(Dish set karne ka Tarika) तो यहां आप जानेंगे कि फ्री डिश को बहुत ही आसान शब्दों में कैसे सेट किया जाता है। इसके लिए आपके पास डिश एंटीना लगाने के लिए मीटर है या नहीं, फिर भी आप डिश एंटीना लगा सकते हैं। एक छाता कैसे सेट करें या डिश एंटीना के सिग्नल को कैसे मिलाएं सेट टॉप बॉक्स में Frequency Add कैसे करें –
डिश टीवी सिग्नल सेट करने के लिए
सबसे पहले आपको टीवी के साथ सेट-टॉप बॉक्स रिसीवर चालू करना होगा .
अगर केवल ऑडियो और वीडियो और उसके बाद डिश एंटीना से जुड़ा है। टीवी स्क्रीन के On होने की प्रतीक्षा करें।
रिमोट पर मेनू बटन दबाएं और सिस्टम सेटअप पर जाएं।
अब Main Menu को इंस्टॉलेशन बॉक्स विकल्प पर ले जाएं और यहां सैटेलाइट लिस्ट पर जाएं।
यहां सैटेलाइट जोड़ें, उसका नाम, स्थिति दर्ज करें और इसे सेव करें। अब यहां से निकल जाएं और ट्रांसपोंडर लिस्ट में जाएं।
यहां आप डीडी फ्रीडिश की सभी फ्रीक्वेंसी को एक-एक करके सेव कर सकते हैं।
जब सभी ट्रांसपोंडर सहेज लिए जाएं, तो उस टीपी सूची में ओके पर क्लिक करें और नीचे सिग्नल प्रतिशत देखें। यहां आपको सिग्नल की गुणवत्ता बढ़ानी होगी जो कि 50 प्रतिशत से ऊपर शून्य है।
अब एलएनबी को ठीक करें – Set LNB Skew Angle
अब आपको डिश के पीछे खड़े होकर एलएनबी पर अपना हाथ रखने की जरूरत है। इसे धीरे-धीरे घुमाएं और सेट टॉप बॉक्स की स्क्रीन पर सिग्नल देखें। यदि एलएनबी को घुमाने से कोई फर्क नहीं पड़ता है, तो एलएनबी को केबल कनेक्टर के साथ नीचे की ओर रखें।
डिश एंटीना को अभी ठीक करें – Set Your Dish Antenna
आपको बोल्ट को ढीला करने और आवश्यकतानुसार डिश को एक दिशा से दूसरी दिशा में ले जाने की आवश्यकता हो सकती है। इसके लिए आप अपने पड़ोस में किसी और का डिश एंटीना देख सकते हैं और हो सके तो डिश टीवी का एंटीना देखें। यदि दूरदर्शन डिश टीवी का एंटीना दिखाई दे रहा है, तो आपको बस अपने एंटीना को उसी दिशा में इंगित करना है। धीरे-धीरे समायोजित करें, और सिग्नल की जांच करें। सिग्नल मिलते ही रुक जाएं और फिर इस सिग्नल को बढ़ाने की कोशिश करें। एंटेना को ऊपर, नीचे, दाएं, बाएं आदि ले जाकर इस प्राप्त सिग्नल को बढ़ाने का प्रयास करें।
Signal Strength

जब Signal stength Bar Green हो जाता है, तो सर्वोत्तम सिग्नल प्राप्त करने के लिए डिश को थोड़ा आगे और पीछे ले जाएं।
Watch This Video For Full Tutorial