Unboxing and Features of the Kangput KPT-968G DVB-S2 Satellite Finder
Kangput Electronics Technology Co., Limited, a Chinese firm that conducts independent satellite signal finder meter research and development, offers the KPT-968G MPEG 2, DVBS/DVB-S2, and HD satellite signal finder as a digital satellite signal tracking device.
Based in Zhangzhou City, Fujian Province, China's Lantian Industrial Zone, they produce useful devices for installing digital satellite TV receivers and contemporary monitoring systems with specialized equipment for simple installation.
Their offerings range from DVB-S2+DVB-T2 satellite finders to DVB-S2+DMB-T, DVB-S/S2+CCTV (AHD), and DVB-S2 satellite finders like the KPT-968G model that we are now reviewing.
You'll get the following goods in the package, as seen in the image above:
Satellite Finder KPT-968G (1 Piece)
(2 pieces) English user manual
(1 Piece) travel bag
DC (1) 13.5V 1A power adapter
1 piece of 12V car power equipment
AV line (1 Piece, 3.5″)
One piece of DC to DC line and one piece of LNB fast connection line is needed to connect to solar power sources.
The KPT-968G MPEG 2 Digital Satellite Finder and the multi-functional signal monitor have a 3.5′′ HD LCD display (with a led backlight) for monitoring satellite signals, a built-in speaker for audio/video playback, a 2200mAh built-in lithium battery (with over 3 hours of run time), and a convenient travel bag so you can work without much interruption.
For communication engineers, skilled installers, and anybody else interested in installing satellite dishes, CCTV cameras, and similar tracking systems, it is a highly useful tool.
KPT-968G Kangput DVB-S2, MPEG 2, HD Satellite Finder can track signals on these models and decode DVB-S, DVB-S2, MPEG-2, and MPEG-4 films. The extremely audible signal alarm that is included in this device allows you to perform signal checks and receive reliable feedback.
Specifications for the KPT-968G MPEG-2 HD Satellite Finder
The complete list of features for the Kangput KPT-968G DVB-S2 digital satellite signal monitor is provided below.
Screen: 320240 (230400 pixels) dot TFT LED 3.5″ (89mm) display with 7351mm pixel size.
Languages supported include English, Chinese, French, Arabic, Turkish, and Russian.
F-type male head LNB input with a 75 (F) input impedance and LNB short-circuit protection.
Video decoding for satellite signals: DVB-S/S2.
Test of the satellite signal display for CBS-2, ABS-S, and DVB-S2 signal display and alert.
Range of frequencies: 950MHz to 2150MHz
Signal strength: -25dBm to -65dBm.
22KHz, 13V, and 18V (maximum 400mA) LNB Switch & Power Supply with Signal Lock Indicator.
DiSEqC: Versions 1.0 and 1.1/2 have an integrated signal-locked alarm.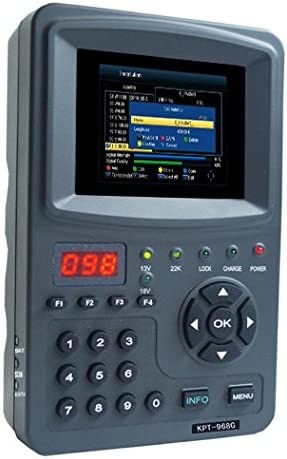 Limit: 4.1 dB.
576i, 576p, 720p, 1080i, and 1080p video resolutions are supported on HDMI output.
Demodulation chip: QPSK (compatible with MCPC and SCPC).
2 Mbps to 45 Mbps for symbols.
System: 16MB SDRAM, 4MB FLASH memory, and a 32-bit, 200MHz processor.
MPEG-2 Main Level video.
Up to 15M bits per second.
Analysis of the image: 720576, 720480.
single sound channel for voice.
32,44.1 and 48 KHz are the sampling rates.
System of Colour: PAL/NTSC
Weight: 440g (with battery pack included).
Battery: Internal Lithium-ion DC 11.1V 2200mAh battery.
Voltage input/output: DC13.5V 1.5A, DC12V.
110x170x41 millimeters
Pricing and Availability for KPT-968G HD Satellite Finder
Price of KPT-968G HD Satellite
Megacities' top online and physical retailers sell the KPT-968G MPEG-2, DVB-S2, HD Satellite Finder. Depending on the seller, the cost ranges from $79 to $85 (or around NGN28,000 to NGN32,000).
Purchasing from a reliable dealer, whether offline or online, is the safest course of action. For instance, you may get this model from Jumia for NGN37,000 or from Aliexpress for $79, both of which would be delivered to your area within a week or three.
Review and conclusion for the Kangput KPT-968G HD Satellite Finder
I must say that this is by far the best satellite signal meter I've ever purchased. The Cristiano Ronaldo of satellite signal trackers is well worth the money invested in it. The Kangput KPT-968G HD Satellite Finder streamlines speed and simplify the process of tracking satellite signals.
It allows you to fearlessly track, view, play, and correctly set your satellite parameters. Despite the fact that it is twice as expensive, I have had far better luck with this device than I did with the OXA GSF-9507.
KPT-968G HD Satellite Finder receives my highest rating of 5 out of 5 stars, and I heartily suggest it to anyone looking to step up their game and monitor satellite signals like a pro. How does the KPT-968G HD Satellite signal monitor work for you? Let us know about them in the comments section below.